What started out as an antique doll mystery on EBay turned into a new friendship  and antique doll clothing project with  Mary Todd Lincoln presenter  and author Donna McCreary.  Used as an authority by the Abrahan Lincoln Presidential Library & Museum in Springfield, IL, Donna was inspired by pieces owned by the museum and the Smithsonian to write Fashionable First Lady: The Victorian Wardrobe of Mary Lincoln which offers insight into the personality of Mary Lincoln through her exquisite wardrobe.  A dream of Donna's has been to have select wardrobe pieces to display on her speaking tours and later donate to the Lincoln Museum.  This extensive project  to replicate a number of outfits of Mary Lincoln's wardrobe in authentic Civil War era style is now becoming a reality! (LINK to Donna McCreary's web site on Recommended Links page)
NOTE: Click on picture for actual size.
** Dolls are reproduction Mary Todd Lincoln (kit) sold by Yield House in 1970's.
Snapping a photo of the new first lady and her two young boys, Mary wore a silk skirt with two deep flounces.  The original fabric, as in this one is in a geometric patterns with a row of small diamonds.  The original gown had small and large diamond shapes in a horizontal line.  Underneath Mary wears pantaloons, an double layered eyelet petticoat with bustle eyelet and hoop.  Her antique white blouse has antique lace at the cuffs and bodice front.  The dress is fitted with the geometric design meeting in the front in a V shaped pattern.  The mantle is lined in black cotton and accented with matching silk insets, black cording  and draw strings with tassels.  Her bonnet is trimmed with lace, flowers and greenery.
Black Velvet 1861

This dress depicts authentic period fashion of 1861.  It features a high bodice with a front closure with open bell-shaped pagoda sleeves lined with white fabric and  tri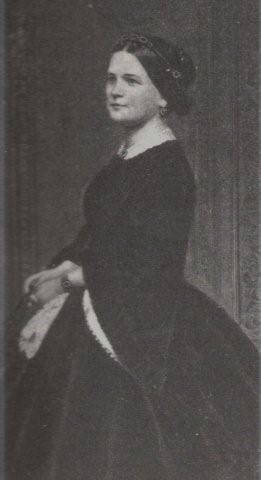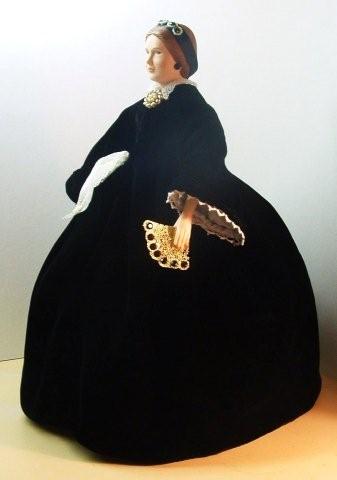 mmed with ruching. The entire gown is lined with a sheer black cotton. The collar is white lace, fastened with a pearl broach. To accessorize the outfit, there is a handkerchief, fan, matching earrings and head dress.  The fabric is authentic 1800's black cotton velvet.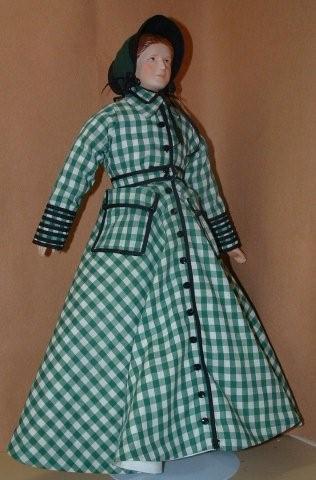 Green & White Plaid Wrapper
Circa 1864-1865
This green and white wrapper was for day wear.  Wrappers were worn at home or when a woman was doing manual labor.  Extra ease in style allowed the wearer to move around freely. Mary Lincoln would have worn this while in the garden or visiting the troops. Its looser waist style makes it easier to wear in and out of a carriage.  It does not require the tight lacing of some styles, so it is easy to wear when working.  At the hospitals, Mary was working – serving meals, writing letters, and delivering gifts.   She would also have worn a wrapper during a morning stroll through the conservatory – or the gardens in general.  This style was also worn for strolling along the beach (which Mary did when visiting New Jersey) – and maybe even dashing out the White House door to talk to soldiers.  (commentary by  Donna McCreary) Photos courtesy of the Chicago Historical Museum.
Wrapper and Cape
Cape and skirt has no seams, large circular cut.

Wrapper w/Cape
Cape seamless circle
1860 Winter Bonnet


Typical headwear for casual wrapper attire.