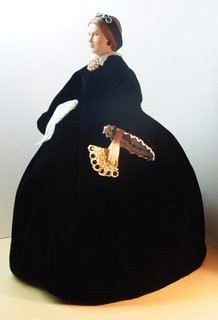 This china doll dress replicated from a Mary Lincoln wardrobe photo is made of vintage cotton velveteen and is authentic to 1800's era china doll clothing.
(see Mary Lincoln section for
details
).   The Mary Lincoln doll dress bodice is fitted  with bell sleeves and cotton  ruching trim at the edge of the sleeve.  The doll dress skirt is tailored to be less gathered in front with more fullness in back for the pre-bustle effect.  The velveteen dress is lined in 100% cotton with a simulated lace collar at the throat and kerchief at the waist band.