Oooh La La!  Kestner Fashion  Half Doll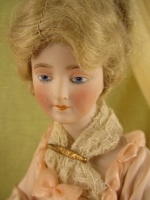 Half dolls came into popularity in the 1920's. Clothing reflected the Renaissance period featuring the royalty and excesses of the period. What is very different from the typical china glazed, 3″ half dolls normally seen that she is bisque finished, is bald so needs a wig and is fully clothed. This Kestner fashion half doll is the largest Kestner made, 6 inches with a matted flesh finish and supported by a wooden cage frame, adding another 8 inches. Secondly, she is unique with her arms  strung, allowing for movement, posing and an elaborate French Fashion assembly.
Marked Germany 77 with blushing on her breasts and hands for stunning details.  Features are delicate with feathered brows, detailed eyes, open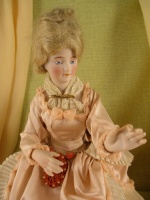 close mouth and blushed cheeks.  The Kestner fashion half doll costume is multi-layered.  Copied style from an 1872 afternoon costume featured in John Burbridge's book Les Petites Dames de Mode, the colors compliment her coloring. The foundation is a full slip, full length crinoline, and bustle.  The striped skirt of lawn features metallic thread borders. Her over-skirt is shirred  on the sides, as well as bustle in the back. The trim on all layers gather organza loops and bows. The square neckline is left bare or, for the more modest, a lace chemisette and pin.
Cage frame

John Burbridge's book

Les Petites Dames de Mode

inspiration for dress

Woven hat base covered

with tulle crown, organza

ribbon, red parrot

feathers & fabric

flowers