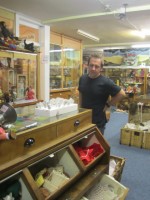 Visiting a German Doll Shop
Thomas Packert of Neustadt has a large shop in comparison to the other Puppendoktors I visited. He had taken over the shop from his father nine years previously. Thomas explained that he had learned puppendoktoring through the family business as it had been in the family since the advent of doll making at the turn of the previous century.  The shop includes the original equipment used in the making of paper mache ball jointed doll bodies, clothing and shoes. The shelves are lined with doll heads of all sorts and there were several large work spaces where dolls are spread out.
While we would all love to find a treasure trove of antique bisque dolls languishing about, there are very few to be found. The predominate doll in Germany today is the celluloid and vinyl doll with Kathe Kruse is the main producer. By nature the celluloid are more fragile so Thomas's shop is stocked with all kinds of parts to make them whole again.
An added feature of the doll shop and other buildings in the doll factory areas of Germany is the construction found in the walls. After the use of the mold wore out, many were used as bricks in the walls of the buildings. As towns grew, new buildings were attached to old, so it was not uncommon to open what was thought to be a window only to discover that it was blocked off by the wall of the building next door. Many of those walls had been constructed of old doll molds so opening the window revealed the molds.
A quick glance about his shop shows a sample board for parts leaning against the wall. Shelves of doll heads and celluloid dolls with voice boxes in their torso lay about. Another area has shelves of doll heads, both new and old. Waiting are antique tinted bisque heads, later painted bisque heads, celluloid heads and paper mache ball jointed bodies.
Large metal presses in the German doll shop  were used to fabricate doll bodies and those same presses are still used by Thomas. Hands are more dense and fabricated in metal molds. The wet paper for the body parts is placed in the press with pressure squeezing out the excess. The front and back of each piece is joined together utilizing staples and then covered with a paper tape. The body parts are then painted and assembled.
Hanging heads waiting to be painted. Note stapled seam covered with a paper tape