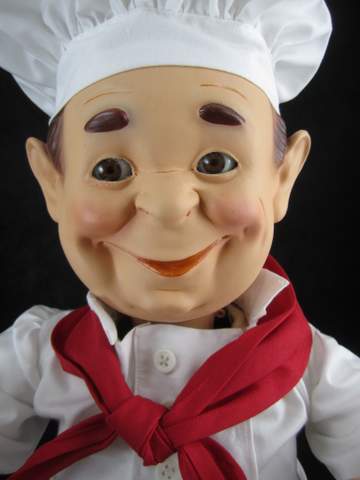 Antique German Flirty-eyed Advertising Baker Doll visits Antique Child Doll Restoration
When Bud Denney and his wife stopped into the airport restaurant in Abilene, Texas those many years ago, he had no idea that he would come face to face with a doll of striking resemblance to him.   Bud couldn't resist the temptation to buy the doll.  His offered denied, he went on his way.  Not able to get the doll out of his mind he approached the restaurant owner again on his return flight.  "$500.00," the owner stated.  In 1960 that was a lot of money.  Bud paid the owner and home he went to his own restaurant, Denney's Dine-a-teria, where the baker advertised the specials for the next 50 years.
Made of paper mache, this jolly, antique German made flirty-eyed advertising  baker doll features a metronome device in his torso.  His ever-grinning head has a counterweight at the base, allowing his brown German blown-glass eyes to  flirt back and forth  when the clockworks is wound and he is set in motion.   His over-sized hands are formed so that one is designed to hold a rod with a banner attached while his other hand points to the message on the banner.
This unusual doll's history is unknown prior to living with the Denney's, but it is speculated, because of his blown glass eyes, that he is of German origin and because the majority of  German doll makers went out of business by the 1930's, he was probably fabricated prior to that time.  Germany, known for innovation with mechanical toys and dolls, more than likely, made him as a special order doll for merchants.   In the  original photo  of the doll he is wearing bakers clothing, but the Denney heirs wanted him restored to also reside as the Master of Ceremonies in their home, so it was only proper that he also have a tuxedo.  
Before photos of Antique German Advertising Doll to show extensive crazing and discoloration due to wear and tear and sun exposure.
 AFTER photos let the charm of this great German Advertising Doll bloom!  He is ready to strut his finest with the culinary arts or host the most formal of events. 
Both outfits are custom made for this paper mache advertising doll.  To replicate the original baker uniform,  white cotton broadcloth was used to fabricate pants, double-breasted tunic, red scarf, apron and bakers hat.  The tuxedo is also made of black broadcloth. The tuxedo includes a white tuxedo dickey shirt with tie and vintage pearl buttons, a red cummerbund, black pants with satin seam details and coat with tails, with satin lining and antique black glass button.