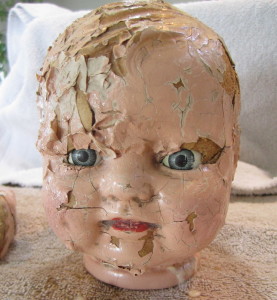 Composition and hard plastic dolls bring list is designed to teach you the most skills on the least amount of dolls.  The dolls to bring for the composition and hard plastic doll seminar to learn doll repair should include  5-8  dolls (they can be mailed in advance if needed).
All composition and composition dolls with cloth bodies that are 20" to 25" .
At least 1 composition doll should have painted eyes and another with sleep eyes.
Dolls such as the Shirley Temple and other 1930-40 dolls have the early acrylic eyes that have often crystalized or shattered and  require an iris transplant, while others may have metal eyes that may be scratched and need touch-up painting.
A painted hair composition and one that has hair so that you can experience both types.
At least 1 doll  should require eyelashes.  If  you do not have one, I have some here in the studio for practice.
Dolls should not have major composition loss, but require patching of cracks and rebuilding of missing or damaged fingers, toes, etc
Included should be cloth bodied dolls with composition head, arms and legs and all composition dolls.
All dolls should have crazing.
Hard Plastic Dolls
All hard plastic dolls to learn doll repair on should be at least 14" tall (all hard plastic from the 50's, not later plastic or vinyl and plastic ) — such as Sweet Sue,Nanette, Toni, etc.) Do NOT to bring dolls with strong odor. It is a mildew in the plastic and once set cannot be removed.   The hard plastic portion will include cleaning and maintenance of hard plastic dolls, stringing, eye case, repainting and clothing needs.
*** This seminar  include instruction on at least 1-2  full strip and redo of composition, and is focused on skills to learn doll repair, patching and accessory skills. For those skills, see Full Restoration seminar.