1870 Custom Doll Clothing
Special Feature!! Lola Montez Cabuchon Parian in 1840 china doll clothing


Because doll clothing is modeled after what people wore, this post is to show you what a proper lady of the 1870's wore and what is possible in fabricating custom doll clothing for your doll.

CLICK on READ THE REST and view ALL that Lola wears!
It is difficult being a lady of the 1870′s and Lola Montez is no exception.  She has to hurry to dress for her walk on the promenade.
Click photos to enlarge.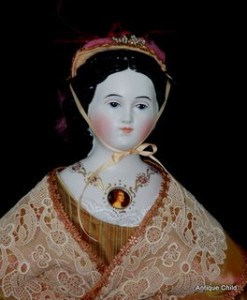 Lola is a 24″ parian doll with a leather hinged body, parian dish hands and rust colored parian boots. Her hair is elaborately arranged with a braid circling her head, additional hair rolls and hair brush marks around the hair line. Her face is softly decorated with a red line accent above her eyes and red highlights on her lips. She has a lovely cabuchon embedded in her breast plate with a photo or her beloved mother framed with gold and accented with opal jewels on the chain.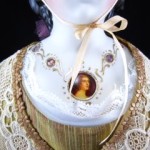 Step by Step Lola Gets Dressed
| | | |
| --- | --- | --- |
| | After her toilet, Lola puts on her drawers. They are soft, made of batiste, antique lace and accented with rows of pin tucks. They are also crotchless as it is cold when using the privy. | |
| | | |
| --- | --- | --- |
| | Next she slips her matching chemise over her head. It is like a long slip. It fits softly under her corset so that it does not pinch or feel so tight. On hot summer days, sometimes she sleeps in it. | |
| | | | |
| --- | --- | --- | --- |
| | Her corset comes next. Her maid helps her as she eases it on. It has six ribs that are stiff which makes it hard for her to move. She understands that fashion and appearances is everything and she likes the way the corset pulls everything in for a stylish figure and her dresses fit better. | | |
| | | |
| --- | --- | --- |
| | Next is her petticoat. Her petticoat has 2 ribs in the back that can be cinched with draw strings to tighten for a fuller, fashionable bustle. The bustle in the back is the new rage from the round hoops of the Civil War years. It is easier for her to move through the house without bumping into things with the old hoops. She also likes the look of the petticoat and thinks it makes her look slimmer, almost flat in the front and lots of fullness in the back. | |
| | | |
| --- | --- | --- |
| | Lola slips her double skirted dress over her head. The under-skirt is striped dupioni silk with fine lines of reds, greens and golds. The short over-skirt is a dark brown dupioni silk with rows of accenting french knots. She will add the lapels which will keep the swags in the upper skirt in place. The bodice is a simple straight design with a round beck, drop shoulders and fitted long sleeves. | |
| | | | |
| --- | --- | --- | --- |
| | Lapels and bustle come next. Attached to a silk belt and buttoned in front, the lapels are gold two tone China silk trimmed with gold silk daises and cotton embroidery at the tops. They attach to the upper skirt to cover the swag gathers and add fashion accents. The bustle lays softly on the raised platform made by the petticoat hoops and accents the back of the dress. The bustle is made of antique cotton embroidery cuffs and gathered for fullness. | |   |
Fichu
Shawl

Lola is worried that it might be chilly outside. She decides to leave her gloves and grabs her shawl fichu. She likes the shawl fichu because it is is shorter than her cape. It does not have arm holes so she is able to move more freely. Kept in place with an attached belt and slip brass buckle, it is made of same silk as her lapels, matching her other assemble pieces perfectly. The shawl is overlain with an antique embroidery collar and edged with the same silk daisies as her lapels.
| | | | |
| --- | --- | --- | --- |
| | The last item Lola has to put on is her hat. Hats of the 1870 were small, cap-like. Hers is made of gathered silk, ostrich feathers, antique tule and accented with an antique seed pearl broach. She is ready for her walk. | | |
| | | | |
| --- | --- | --- | --- |
| |     | | |