DOLL DOCTOR   – Consumer BEWARE 
                         A Doll Doctor is the only doctor that I know of that can hang their shingle, go by the name of Doctor and open a shop without anyone laughing.   There is even a Doll Doctor Association whose only criteria for membership is the ability to pay your dues and a blanket disclaimer from the potential member that *yea, you are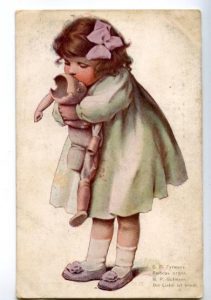 interested in doll repair.*  One doll repair person on the web wears the white coat with a pin on the lapel similar to a medical doctor.  Does this lend itself to the doctor image of professionalism for the sake of dolls? 
Shockingly, you can't rely on the term Doctor to get you a doll expert.  WHAT do you rely on to find that special, knowledgeable someone to work on YOUR special doll? 
What is a Doll Repair Professional?
ANSWER: To find the best you have to do the ground work first to know the right questions.  Next, you need to know the right answers for your questions. The first question you should ask to yourself when investigating a service over the internet or phone is:  Can you see CLEAR before and after photos of the person's work? Not 1 photo of 1 type of doll, with the light shadowing most of the features, but many. The photos should be of several dolls with close-up shots of details. Is what you see the kind of work you want?
Ask questions like: How long have you been doing this? Do you use an airbrush? Can I have references? Is there an itemized bid? (not a ball park figure that could change with the wind) How long will it take? Are there any guarantees? Do you do appraisals? (free) What do I have to pay upfront? (Don't you want to see your doll completed before you pay?) 
First of all, make a list and write down what you want to know. Next, communicate with the restoration person over email or the phone. When you are looking at the restoration person's web site, is it professional or do they use animated and cartoon characters? Lastly, is the information about their work complete or brief, incomplete phrases that cause you to assume details? Finally, some restoration people specialize on certain dolls so ask if they work on dolls like yours. Do they offer suggestions on more than one way to fix your doll and do they offer resources for more services, like clothing, voice boxes, etc. 
Importantly, remember that you would not think of asking a non-professional to work on your car or teeth without vetting them first. Get as much information as you can about someone you are willing to turn your prized doll over to.