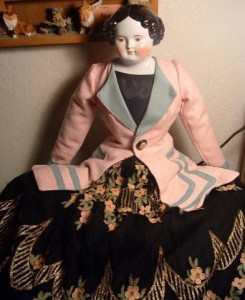 Don't know what china doll body size to buy? In choosing the right body size for your china doll, a simple rule of thumb is that  the head is 1/4th the size of the finished body.  To determine what size you need, the torso is twice the height of the head and so are the legs.  Example: head size 2 inches, torso is 4 inches, legs are 4 inches = finished doll of 10 -11 inches.

As a proportion guide, the chest is rather triangular, while the hips are more slim. 
When china doll heads were first sold, the arms and legs were sold separately so it was common to see large differences in the china doll body size.  The details of the china doll body also were directly related to the skill of the seamstress sewing and putting together the body.