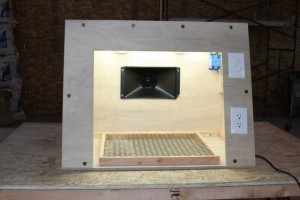 The right tabletop airbrush paint booth will make it so much easier for repairing and restoring dolls the right way. I have 2 airbrush paint booths, side by side in my studio, one for painting and one for sanding.
Featuring a flat bottom, this tabletop paint booth will fit on a counter or table. (35″ W X 26″ H X 22″ deep) The basic unit comes with a 110 plug-in, an external switch for functions, light fixtures, fan and 1 filter. The fan unit and attached duct work extends out the back approximately 12″-15″. An added feature of this unit is that the fan can point in any direction to accommodate the exit for the exhaust host (a dryer hose works well).
Additional options for this tabletop airbrush paint booth includes elevated base wire rack that fits the entire opening of the booth and allows for area to set your parts and paint without having them touch the paint dust that comes to rest on the floor of the booth. The rack is a heavy grade mesh that will not bend under the weight of your work load. An additional option that has been very useful is a double plugin for a sander, Dremel or a shop vacuum to clean the booth. Additional wooden frameworks are also available to switch out easily as they become filled to continue working. The frame-work that comes with the booth is covered with nylon. I have used many filters and find these to be the most economical and easy to deal with. Most commercial filters have irregular surfaces that are cumbersome to vacuum clean. I use nylon stockings to recover the filter (after many vacuum uses).
Basic Airbrush Paint Booth Unit $435.99
SAVE 20% !!!   Basic Unit plus Face Frame Dual Outlet Plugin, Wire Rack  & 2 additional Filters    $519.17

(complete your package with table top and wall mount parts rack)
(unit is shipped un-assembled with pre-drilled holes and instructions) 

NOTE: Shipping is calculated via PayPal services and often does not reflect actual UPS shipping rates, so after shipping is calculated a Pay request for the difference will be issued.
High grade 5 layer lightweight plywood frame with tight grain for optimum strength
Two dual socket light units (4-100 watt bulbs not included)
Light & fan switch on face front
110 outlet plug (on back)
1 filter frame
Shipping weight approx 50 lbs
Premium in line air blower fan attached with 3″ coupler

Dimensions: 12 inches x 12 inches x 9 inches
4-inch connection size
Versatility to be used in various environments
Premium grade motor 113 watts, .95 amps; speed of 2,910 RPM
True rated air volume of 190 CFM (others quote 600-800 CFM for this blower)
Accessories for Airbrush Paint Booth


Wire rack $38.99
2 frames for filter $29.99
Dual plugin (on face frame) $34.99
Tabletop parts rack with 6 upright posts $13.99
Wall mount parts rack with 6 posts 30″ $13.99