| | |
| --- | --- |
| | Doll restoration fills a lot of my needs and talents.  I am a self starter so I find that being self employed  allows me to set and maintain high standards for the work I do.  With my 25 years of teaching and administration background, I am a life long learner, always researching and developing new doll items. |
| | |
| --- | --- |
| I work from my Treasure Valley studio near Boise, Idaho and have been active  for twenty-five years in repairing dolls, antique and vintage. What started as a hobby in doll repair has turned into a cherished vocation in doll restoration.  Outside of doll restoration I love on a working ranch so there is always lots to do in the process of growing our own organic food.    | |
Where is Antique Child Doll Restoration ??  CLICK HERE

Welcome to Antique Child
My mission is to meet the needs of today's doll collectors, explain differences between doll restoration, repair and conservation, while offering museum quality doll services in restoration, repair and doll costuming to those who value the difference.
Journey to Antique Doll Repair & Restoration
Composition Doll Repair . . . China Doll Repair . . .
Bisque Doll Repair . . .  Antique Doll Clothing and beyond  . . .
Antique doll repair and restoration evolved out of necessity because it seemed that dolls I wanted were too expensive. I started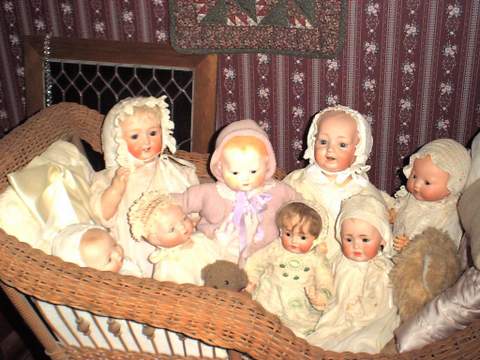 with antique composition dolls, mostly because of the price, and later sold them, reinvesting the money into antique German bisque.  Next, the character babies captured my heart.  Along the way I got child dolls.  Followed by the all-bisque dolls, which held my attention.  Most were in shambles when I got them.  Along the way, I met some great German dealers and got original arms and legs for replacements. Adding antique fabrics, their personalities unfolded to tiny people. I had always overlooked Antique China dolls because they did not seem different enough. Examining them closely I discovered the wide variety and range of them as well and today have a particular fondness for them.
Composition Doll Repair to Restoration

From repair I learned restoration, the process of bringing the doll back to original condition. My mother had been a professional seamstress so I had a great foundation for the costuming. Hours were spent perfecting and reading about what dolls looked like those many years ago when new. I think of dolls as a work of art. Each has their own look and character. Finding the  beauty exciting.
I have lived most of my life in the country and would have it no other way. Sitting on the deck, overlooking the Snake river brings balance to the hectic moments. I have always been a teacher, whether it has been in the classroom, volunteering, or promoting a hobby. I am a life long learner and enjoy sharing. With so many more things to discover, I don't plan on slowing down any time soon!
— Janie