Doll Repair * Doll Clothing
for Antique & Vintage Dolls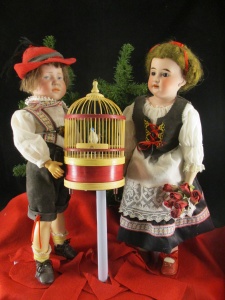 Hurry to Antique Child Doll Restoration for custom and rack doll clothing for your special doll!!
Looking for a Career Change?                    Consider a career in Doll Repair, Restoration & Conservation for  those  passionate about dolls.  Importantly, Antique Child Doll Restoration offers hands-on training in  a full range of doll repair techniques.  The training teaches needed basics to start your business.  In addition,  instruction in effective doll business practices and web site training provided. Even after you leave Antique Child, your learning is never over.  Mentoring and help is open to all students who complete the  doll restoration and doll repair career training. 
Antique Child Doll Restoration specializes in professional doll repair, doll restoration and doll clothing.  Most noteworthy,  authentic period fabrics, laces and patterns for your antique, vintage or not so old doll insures customer satisfaction. Lastly, certificated in Professional Doll Restoration, your doll will receive the very best.
Featured Custom Costume

1870 Promenade Dress

This detailed silk promenade dress with embroidery is a sample of a CUSTOM costume, available to those who wish the best for their heirloom dolls! The doll clothes includes exquisite custom under clothes, double dress, lapels, shawl and hat.

Surprise Doll . . . . What's In a Face?

The answer is HISTORY. This 1894 Art Fabric Mills rag doll has been hidden for over 100 years. Her body had been used for a large 1850 china doll head.

Member of

Museum consultant and materials contribution for 

  Owyhee County Historical Museum– Murphy, Idaho 

Basque Museum & Cultural Center – Boise, Idaho

Henry Franc Museum – Wilmington, DE

Winterthur Garden, Museum and Library –  Winterthur, DE

Daughters of Utah Pioneers – Spanish Forks, UT